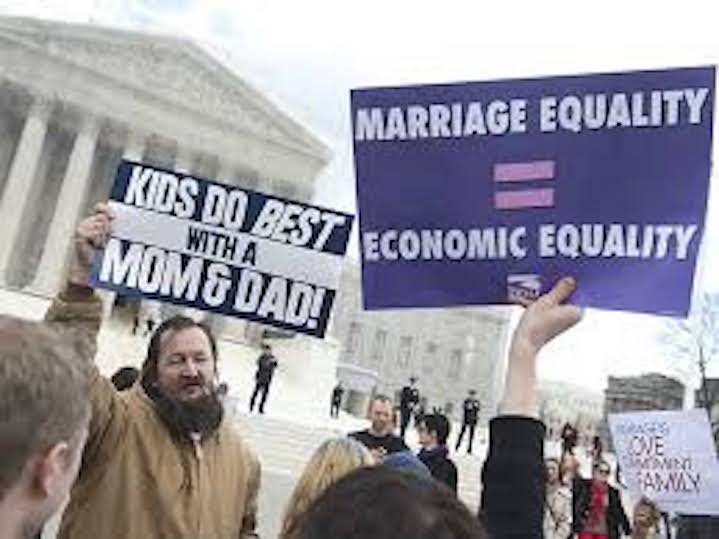 31 Oct

The Same-Sex Marriage Debate is Far From Over

by Erin Weist

Same-sex marriage has been in global news this week and it appears that many throughout the world are still unsettled regarding the growing acceptance of this new trend.  

Grenada is currently seeking to revise its constitution, introducing several bills through referendum, but has received negative feedback regarding a gender equality bill included in this referendum.  Many citizens have expressed a fear that this equality bill, seeking equal rights and status of men and women, could create loopholes that would legalize same-sex marriage.  The Constitution Reform Advisory Committee has recognized this legitimate fear and is seeking an extension on the referendum in order to educate people of the purposes and limits of each bill.  

In Australia, the debate over whether to introduce a plebiscite over same-sex marriage has recently passed in the Lower House.  A plebiscite does not amend the constitution of Australia but allows a vote to be held in order to assess public opinion regarding a political matter.  Many pro-family groups have stood up in favor of the plebiscite, while many LGBT groups have expressed negative feedback about the need for such a vote.  This issue has brought about fierce debate in Australia, prompting the Anglican Diocese of Sydney to produce a wonderful booklet on the importance of man-woman marriage, answering the calls of inequality and thoughtfully explaining the views of those wishing to retain the current state of marriage.  Similarly, United Families has produced a Marriage Guide, part of which explains why governments have become involved in defining marriage.  (You can also visit the United Families website at unitedfamilies.org and click on the header "Issues and Answers" and find this and similar discussions under the "Guides to Family Issues" link.)

Coming on the heels of a similar protest in Mexico last month, Parisians have taken to the streets demonstrating their desire to return to conservative values ahead of the coming 2017 presidential election.  Same-sex marriage was legalized in France in 2013 but these pro-family organizers have not given up their desire to see that law repealed.  Conversely, in Taiwan pro-gay activists have marched on the Taiwanese capital in support of a bill introduced by the new ruling party that would legalize gay marriage.  A similar amendment failed in 2003 and the current bill has been tabled but with hopes of being debated soon.  Taiwan could potentially become the first Asian country to legalize same-sex marriage.  Finally, Northern Ireland First Minister took a stand recently against online abuse from LGBT activists directed at leaders of her party, indicating that such abuse would terminate discussions of compromise and instead determine that their party will continue to block legalization of same-sex marriage in Northern Ireland.

It is clear that the issue of same-sex marriage has become universal, and that it is a political hotpoint in any country where the issue arises.  There are strong advocates on both sides of the gay marriage debate, which means that the debate is far from over.  It is important that both sides remain civil to one another. Engaging in vicious attacks or even childish name-calling is antithetical to thoughtful dialogue.  I will continue to respect the views and ideas of others who wish to adopt new trends regarding marriage, but, after careful study and introspection, as well as seeking input from those with opposing views, I know I will never change my own views regarding the validity and superiority of man-woman marriage.  And many who disagree with me feel the same way, which means this debate seems likely to continue, worldwide, for many years to come.  For those supporting traditional marriage, please remember you are not alone, you do not need to compromise your values, you stand with millions of others around the world who recognize the strength found in the family.  Please continue to stand with us.