08 May

The Root of Good Mothering

From the Desk of Laura Bunker:

Former U.S. First Lady Barbara Bush once said, "Whatever the era, whatever the times, one thing will never change: fathers and mothers, if you have children they must come first. Your success as a family, our success as a society depends not on what happens at the White House, but on what happens inside your house."

Our instincts tell us Mrs. Bush's words are true, yet sometimes women feel the "weight of the world" on their shoulders as they try to be the perfect mother.

Today's alert by Dr. Jenet Jacob Erickson helps us keep motherhood in perspective: "Focusing on how to perfectly implement all the best, expert-defined practices of motherhood can blind us to the real source of a mother's unparalleled influence — the power of her love."

Mother Teresa said it this way: "Do small things with great love." As Mothers throughout the world, we can do that.  Maybe our simple meals really are good enough, our best advice really is wise enough, and maybe the power of our "great love" really does cover a multitude of imperfections.

We invite you to read Jenet's encouraging article below, as well as a student's perspective on a Mother's legacy of strength–and we wish you a

Happy Mother's Day filled with courage and hope!

Warm Regards,

Laura Bunker

President, United Families International

You don't want to miss these!
 Click here to watch a heartwarming 2-minute video in Jenet Erickson's own words: "To my everyday mother."•    We are excited to announce an important new International Documentary: "The Power of Mothers and their Influence on the World."   Click here to see the trailer, and order the DVD. We highly recommend it.
Love, Not Perfection, is the Root of Good Mothering
By Jenet Jacob Erickson
Originally published in the Deseret News May 12, 2013          
I once heard a very committed mother of young children say she had started a fund to cover the cost of the psychological counseling her children were sure to need because of her failures as a mother. When she said it, a knowing, nervous laugh erupted among the group of mothers present — as if they had all accepted a reality that their children's future challenges would be blamed on their imperfections as mothers.
It's not hard to see why mothers might feel that way. Mothers are bombarded with contradictory "expert" advice on everything from how to get children to sleep and eat right, to how to coach them through emotions while disciplining them. In an "intensive mothering" culture that stresses the emotional fragility of children, it is tempting to feel that children's challenges could have all been prevented if we as mothers had just followed the recommended "best practices."
But focusing on how to perfectly implement all the best, expert-defined practices of motherhood can blind us to the real source of a mother's unparalleled influence — the power of her love.
After two decades of careful research on multiple factors in children's development, the National Institute of Child Health and Human Development concluded that maternal sensitivity — expressed in responsive, loving interactions — is the strongest and most consistent predictor of a child's development, even when a mother is not able to be with her child for large chunks of the day.
As they concluded, the significant influence of mothers is not realized in perfectly orchestrated enrichment activities for children, but in a million small acts of care and responsiveness. When all is said and done, it really is through the hundreds of diaper changes, baths, nose wipes, late night conversations, car rides, meals, and questions about feelings and friends that her love becomes a powerful source of influence.
Scholars have consistently confirmed that reality. A century ago, attachment scholar John Bowlby found that the bond created through the innumerable caring interactions between a mother and child is the critical foundation for social-emotional development. Neurologist Alan Schore's observations of brain development show that without even knowing it, mothers have a unique ability to provide the optimal "bits" of loving interaction that allow a child to understand emotions and relationships. And feminist scholar Sara Ruddick identified a mother's "attentive love" as the core of effective parenting. Through the "patient eye of love," mothers develop a special knowledge of their children — a knowledge that gives them unique insight into what the truly "best practices" for each child should be.
We have all witnessed the power of this maternal love — love that enables the mother of a child with a heart defect to hold and calm the child all night, though her arms shake from the burden; love that enables a mother to talk and listen to a teenager's social struggles for long hours night after night; love that enables a mother to courageously study for ways to help a child with autism then continue hopefully through years of efforts to implement them; love that enables a mother struggling with addictions to overcome them in order to make a better life for her child; love that carries a mother to her knees praying for a child long grown who she knows in her heart is struggling perhaps somewhere far away; and on and on and on.
Renowned scholar Jean Elshtain once described the death of the 18-year-old son of her cousin. Born anencephalic, he could never speak, feed himself or sit up unaided. In reference to his brain, doctors had consistently told his parents that there was "nothing there." He stared out at the world making no apparent distinctions until his mother came into view. And then "his face would light up" — it "would beam." He knew her, and he loved her. As she described, this mother's "love and care and devotion kept him going for 18 years." And when he died, "a family of parents, siblings, grandparents, aunts, uncles, cousins and a wider community grieved their loss."
Mother's Day is not an expression of gratitude for "perfect" motherhood. Mother's Day is an expression of gratitude for love — love "made flesh" in a hundred million selfless acts beginning with birth itself, to allow a soul to experience a sense of his or her worth and capacity. It is an expression of gratitude for the generosity we have all at one point entirely depended on. Indeed, it is a celebration of the self-sacrificing, loving power that has bound together the entire human family — the love of mothers.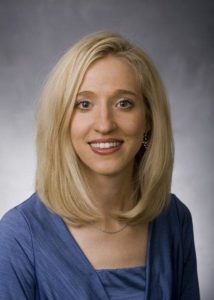 Dr. Jenet Jacob Erickson is a family science researcher who specializes in maternal wellbeing. After completing a Ph.D. in Family Social Science from the University of Minnesota, she was an assistant professor in the School of Family Life until 2008 when she became a mother. She and her husband Michael are the parents of two young children.
A Legacy of Strength
By Jessica Sabin
Gloria Steinem, one of the leaders in the modern feminist movement, once said. "We need to remember across generations that there is as much to learn as there is to teach."  So today we must ask ourselves, "What will the women who come after me learn from my generation?"  Read more …